MALABAR is an example of a harmonious encounter between classic form and design. It lights up for our greatest pleasure and generates an exquisitely muffled lighting atmosphere. Its staggered heights make it possible to juxtapose it and to obtain particularly coquettish combinations! MALABAR will enhance every corner of our indoor and outdoor living spaces: entrance, living room, terrace or patio.
White rotomolded polyethylene (PE) lamp with black cable (2 m or 5 m) and black foot switch (interior lamp).
COMPATIBLE WITH BULBS OF ENERGY CLASSES A ++ to B.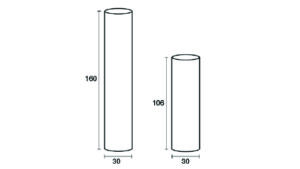 Dimensions MM Ø 30 x H.106 cm – GM Ø 30 x H.160 cm
Weigth MM 5.2 kg – GM Ø 6.8 kg
Max power (w) 100W
Recommended bulb 13W 3000°K
Wire size According to electrical kit
Ref. PD1051MO MM – PD1056MO GM