With its sober and delicate design, the PATIO luminaire delivers a soft and intoxicating light which will dress with femininity and refinement the rooms of a contemporary interior as well as a wooden terrace. Suspended, placed alone on a console or grouped, PATIO will gracefully colonize the places that will be assigned to it.
White microblasted rotomolded polyethylene (PE) lamp fitted with a black cable (2 m) and a black foot switch for the interior lamp or a black cable (5 m) without switch for the exterior lamp.
COMPATIBLE WITH BULBS OF ENERGY CLASSES A ++ to B.
Available in: Applied Suspension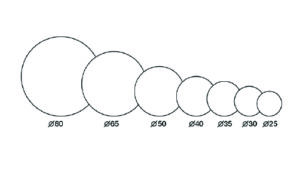 Dimensions Ø 25 cm – Ø 30 cm – Ø 40 cm – Ø 50 cm – Ø 65 cm – Ø 80 cm
Weigth 1 at 8.6 kg
Max power (w) from 40W to 100W
Recommended bulb 10W 3000°K
Wire size According to electrical kit
Ref. PD1020SO 20 – PD1021SO 25 – PD1022SO 30 – PD1023SO 35 – PD1024SO 40 – PD1026SO 50 – PD1028SO 65 – PD1029SO 80