A coffee table that you can choose between a rechargeable lighted version and a plug-in version. The powerful LED module spreads the light evenly.
The wireless version of the lighted coffee table allows you to install it wherever you want, even outside in your garden or on your terrace.
COMPATIBLE WITH BULBS OF ENERGY CLASSES A ++ to B.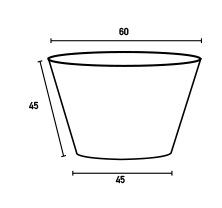 Dimensions Ø max 60 x Ø mini 45 x H.45 cm
Weigth 6.2 kg
Max power (w) 100W
Recommended bulb 13W 3000°K
Wire size According to electrical kit